[Update 27.06.21]: I quickly made up for it. If you're not yet sure if you should test Windows 11 Preview or Windows 10 Preview, you'll find the exact channel explanation of what's in under Settings -> Updates & Security -> Windows Insider.
Giant channel: As always, the latest Windows 11 21H2 Insider build is available for testing here
beta channel If you want to test Windows 11 21H2 but don't want to keep updating it, the beta channel is perfect
Preview episode release here it is Windows 10 21H2 It was tested, which will then be released to everyone in the fall.
So two versions will officially appear in the fall. First of all, Windows 11 21H2 has all the new functions announced so far and they are also coming. and Windows 10 21H2, for those who don't want to switch or can't switch. We'll have to wait to see if it will be 19,044 in the end. Also functions that are ported from Windows 11.
[Original 24.06.21]: As already written in the event bar, the first Windows 11 Insider release is supposed to be released on June 28. This has now been confirmed by Microsoft.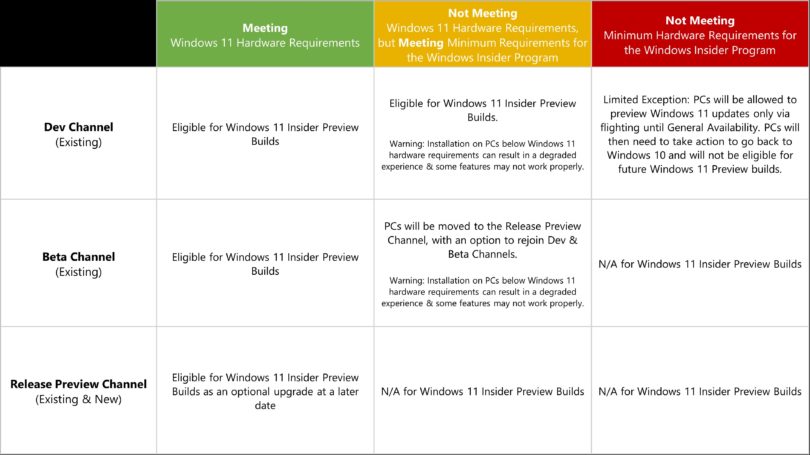 But unlike the above, inside information will be perfectly distributed across all three channels. In the dev channel and also in the beta channel, we'll go straight to Windows 11. If you're in the Release Preview channel, you'll receive Windows 11 as an optional update via Windows Update. Dev-Insiders already know you have an option that you want to use.
"All Windows Insiders who have already installed builds from the Dev Channel on their PC by June 24, 2021 are still allowed to install Windows 11 Insider Preview Builds, even if their PC doesn't meet the minimum hardware requirements." … "Our way of thanking us is to give them the opportunity to experience everything. However, this includes some important concessions that we would like to bring to your attention:"
As these devices do not meet the new hardware requirements, there may be issues and errors that affect the experience of Windows 11 on these computers and may not be resolved.
Should something go wrong with any of these computersIt requires switching back to Windows 10, you can use the Media Creation Tool here to go back to Windows 10. These PCs will not receive another exception and will no longer be allowed to upgrade to Windows 11 Insider Preview Builds. You will be treated as a new PC and the minimum hardware requirements as described above will be imposed.
Once Windows 11 becomes publicly available, these PCs will be excluded from releases and will no longer be able to receive future Windows 11 Insider Preview builds. These PCs have to perform a clean install back to Windows 10 using the media (ISO) we provided and can then join the Release Preview channel to get a preview of Windows 10 updates.
In preparation for the Windows 11 Insider Preview release of the beta channel later this summer, we're moving PCs that don't meet the Windows 11 hardware requirements in the beta channel to the Release Preview channel. You may be able to return some of these computers to the beta version, but at your own risk.
We understand that this is a small change, but this will ensure that Windows Insiders have the best possible experience with the Windows 11 Insider Preview based on their PC. here again Specifications at a glance.
Windows 10 tutorials and help
You will find a lot of useful tips and tricks in the Windows 10 Wiki. If you have any questions, just ask us at forum.
formulations The current installation files can always be found here in the sidebar on the right. Windows 10 2004 ISO (19041) or 20H2 (2009) ISO (19042) or Windows 10 21H1 (19043) ISO
Installation: Install Windows 10 Clean, Reinstall Win 10 2004/20H2/21H1
Current problems with: Windows 10 2004 / 20H2 / 21H1
fixes: Internal upgrade repair, Win 10 repair via DISM, sfc etc, Windows update repair, start menu repair, apps repair, repair store, network repair
Sign Up: win 10 automatic login
remove, uninstall: Uninstall apps
File Explorer: Remove the folder under This PC, Network, OneDrive, etc in Explorer
Correct use: Use the start menu correctly, use the search correctly,
Important: Each tutorial shows the appropriate version for it.
"Unapologetic pop culture trailblazer. Freelance troublemaker. Food guru. Alcohol fanatic. Gamer. Explorer. Thinker."