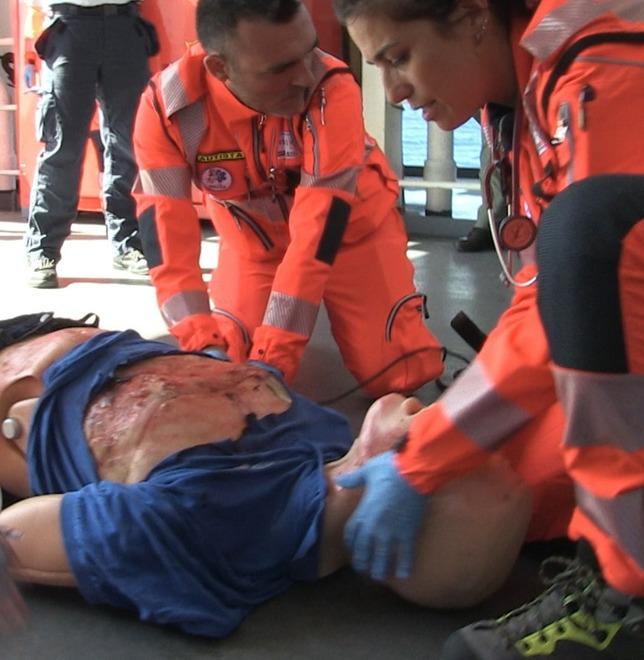 Olbia Sailing offshore means having only two distant points as references. One is Tavolara in its last part, and the other is the promontory of Capo Figari. As for the rest, it's an infinite expanse of blue. Yesterday this was the view of the Luigi Dattilo ship of the Coast Guard which, in addition to the crew, hosted a group of observers from the armed forces and national and international bodies. It was questioned on the occasion of the "Squalo" 2023 maneuver that took place in the waters under the responsibility of the Olbia Port Authority and was organized within the international agreements Sarmed.occ. (Western Mediterranean) between Italy, Spain and France.
On board the Dattilo But it was above all a test of strength: the long day of rescue, which began shortly after 8 o'clock from the berth of the Olbia Naval Station, was marked by strong winds – more than 30 knots – and a sea of ​​4. Initial smiles and follow-up tension: aboard the Coast Guard flagship The crew, consisting of about fifty men and women in uniform, were put to the test in intervention maneuvers after discovering a shipwreck in the open sea. The 95-metre Dattilo, commanded by Commander Fabio Borello, is stationed in Catania and often makes the news for interventions in the Mediterranean to rescue boats heading towards the coasts of Sicily. Last week, he saved 700 migrants.
Bad weather reduced the nature of the exercise, but it served as a good test for the young Coast Guard personnel on board. They are the so-called new recruits.
Practice The first part took place on deck, with a demonstration of first aid by doctors and nurses from 118 Arios. Rescued from the waves, a robotic mannequin simulates the appearance of a shipwrecked teenager, with head trauma and various body injuries. Observers followed the demonstration. Among them are delegations from Malta, Cyprus, Greece, France, Frontex, firefighters and the Air Force. Hence the more complicated part of the transportation process to the mainland.
A coast guard helicopter, despite strong gusts of wind and moving traffic, managed to get close to the platform on board, then rescuers pulled out two wounded people, played by the men of the diving department, who were rescued using a belt, stretcher and at once. By helicopter transported to the port of Olbia. Where a medical center was equipped by Arios and the Civil Protection to carry out the first visits and sort the wounded towards the hospital.
today The Dattilo worked in constant contact with other boats operating at sea, the patrol boats Charlie papa 306 from Maddalena, Charlie papa 273 from Olbia and Charlie Papa 21-16 from Olbia, and under the watch of the Finance Police. In the sky, in addition to the helicopter, there was also a coast guard plane, one from Frontex, one from the fire brigade and one from the financial police, which rescued models and other extras.
"Reader. Travel maven. Student. Passionate tv junkie. Internet ninja. Twitter advocate. Web nerd. Bacon buff."